SEACAMP I
Overnight Camp for Students 7th through 12 Grade
SEACAMP I
Overnight Camp for Students 7th through 12 Grade
About SEACAMP I
Overnight Camp for 7th - 12th Graders
Our SEACAMP I marine science program is a 6 day, 5 night residential camp for students entering 7th through 12th grade in the upcoming fall and is limited to 52 students per session. SEACAMP I is the first program in our progressive overnight Summer Camp options. SEACAMP I is designed to give students a broad knowledge base of all accepts of marine science through hands-on education and interactive water activities.
Students will cover a wide variety topics in our labs and workshops, including fish adaptions, marine mammals, shark ecology, plankton evaluation and much more. Instructors will use our aquariums along with live and preserved marine animals to provide students with an in-depth understanding of the ocean and the animals in it. The topics covered in our labs and workshops are reinforced and applied in field activities. During the field activities, students will have the opportunity to observe and explore animals and environments that were discussed in labs. Students will be in or on the water every day – snorkeling, kayaking, stand up paddle boarding, boogie boarding and the highlight of the week, an all-day boat trip with snorkel excursion.
Our goal is to combine hands-on labs with interactive water activities to give students a well-rounded experience. SEACAMP I is an excellent way to introduce students to the marine environment. We engage those students who are already interested in Marine Science as well as spark the interest of those with little previous exposure.
In most sessions, students will be split into two groups by age/grade with older students in one group and younger students in the other group. Additionally, all of our SEACAMP II sessions have a SEACAMP I prior to them which allows students 8th grade through 12th grade to attend SEACAMP I & II consecutively. Our Summer Camp is designed as a progressive program – first attending SEACAMP I, then SEACAMP II and SEACAMP III – as all labs and field activities build on what was learned and accomplished in the previous session.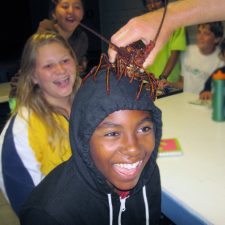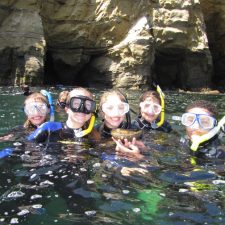 2018 Session Dates
*May attend consecutively with SEACAMP II
SEACAMP I sessions are open to students entering 7th through 12th grades in the upcoming fall and are limited to 52 students per session.
Enrollment is accepted on a first come, first served basis and is open until the start of the session date, providing space is available. A partially refundable $300.00 deposit is required to secure student's spot in session.
Students 8th grade or older have the option to attend SEACAMP I & II consecutively, giving students the option to stay with us for two weeks! Sessions indicated with (*) may be done with the next level. Students will stay with SEACAMP from the start of SEACAMP I to the end of SEACAMP II.
Participants are able to switch between session dates providing space is available. Requests must be received by May 15th and will require new paperwork. Fees may apply for changes after May 15th.
To enroll, please click on the link above and then select session date, dorm type and either deposit or full tuition payment. Add the selections to cart, view cart and then proceed to checkout to complete enrollment process. Tuition balance and required paperwork for selected session date are due on or before May 15th.
SEACAMP I Tuition:
$895.00 per student – $300.00 deposit required with enrollment. Tuition balance and required paperwork for selected session date are due on or before May 15th.
Tuition Includes:
Housing, meals, admission to all attractions, gear, equipment, 24-hour supervision and transportation while in San Diego. As an added benefit to those who are attending back-to-back sessions of SEACAMP I and SEACAMP II, your tuition will include all intersession activities, supervision, housing, dinner and breakfast. Transportation to San Diego is not included in tuition. Students and families are responsible arranging travel. SEACAMP does include transportation to and from the airport as long as flights arrive and depart inside the given window of time.
Cancellation Policy:
Deposit and tuition may be partially refundable. Cancellations prior to January 31st are subject to a $100.00 cancellation fee. Cancellations between February 1st & March 31st are subject to a $200.00 cancellation fee. Cancellations between April 1st and May 15th are subject to a $300.00 cancellation fee. Deposits and tuition are non-refundable after May 15th. Cancellations must be submitted in writing and received by the dates stated above. Cancellation Policy applies to each session.
Participants are able to switch between session dates providing space is available. Requests must be received by May 15th and will require new paperwork. Fees may apply for changes after May 15th.
SEACAMP San Diego Location:
Camp location is on Mission Bay, approximately 10 miles north of downtown San Diego. This location has our dorms, restrooms, classrooms, aquariums and access to a private beach.
Housing:
Students will be housed in a traditional open style dorm equipped with bunk beds. We have two large dorm rooms, one for female students and one for male students. Students are assured 24-hour supervision by our SEACAMP Marine Science Instructors that spend the night in the dorms with the students. Students bring their own bottom sheets, sleeping bags and pillows. Dorms are separated by a courtyard area, which encloses a safe space to play games and hang out, and provides a sunlit outdoor area for the tables for meals or alternate lab space. Bathrooms are across the courtyard with separate facilities for males and females. Each bathroom is equipped with toilet facilities and separate curtained showers.
Meals:
SEACAMP San Diego provides all meals that are included on your schedule. Meals are supplied by our caterer and are prepared in their kitchen. Breakfasts and dinners are usually cafeteria-style and served at our camp facility. Lunches are "brown-bag" style and usually eaten in the field. Meals are delicious and varied, well-balanced and include fresh fruits and vegetables. However, snacks are not included. If your student will need more than the meals provided, please have them bring individually wrapped snacks in a bag labeled with his or her name. Snacks will be stored and available daily to students.
Classroom Facilities:
All of our lab & workshop facilities are tailored for the specific needs of our program and include a classroom with a running seawater system, a full aquarium room with touch tanks, a shark tank with live specimens, microscopes, and the added security of private beaches.
Students participate a variety of activities – each day is different and includes a combination of labs and field activities that are chosen to maximize time and provide students with a one of a kind experience. To accommodate age ranges and education levels students are split into two groups by age/grade with older students in one group and younger students in the other group. Students will do almost all of their activities their respective age groups. Students enjoy a hot breakfast at camp with lunches generally being picnic style and eaten in the field. At the end of the day students have dinner prior to their evening programs.
Labs are designed to introduce students to the marine life they will observe in the field. Our instructors teach using a wide variety of live and preserved specimens that students are encouraged to handle and investigate. The topics of labs include invertebrates and fish adaptations. The students will also learn more about sharks with a lab on shark ecology prior to an excursion to La Jolla Shores for a Shark Snorkel. We also conduct water chemistry, plankton studies, physical oceanography and seining activities in the field. These allow students to directly apply the concepts of marine science to real-world observations. Participatory workshops such as deep-sea animals and night adaptations combine the learning with a fun nighttime activity.
Students will have the opportunity to visit The Living Coast Discovery Center – located inside the San Diego Bay National Wildlife Refuge. Students will participate in a behind-the-scenes experience and a nature walk through the wetlands incorporating discussions on marine birds and reptiles. While at the Discover Center, students will have the chance to participate in a scavenger hunt. The activity will lead students through a variety of amazing exhibits, from local bird species at Shorebird Aviary and Raptor Row to the Turtle Lagoon. Prior to the visit to The Living Coast Discovery Center student will stand up paddle board and complete their Sea Turtle Biology and Conservation Workshop.
In-water activities for the SEACAMP I week include kayaking, boogie boarding, stand up paddle boarding and snorkeling. Our sit-on-top kayaks allow students a great follow-up to a discussion of shallow bay ecology, in addition to learning some fun kayak games! Our instructors also introduce students to many aspects of physical oceanography. Students will experience first hand the waves Southern California is famous for while boogie boarding under the supervision of the SEACAMP San Diego staff.
Students of all abilities have been very successful in mastering the skills of snorkeling through our progressive and well-supervised snorkeling program. We expose students to many different sites in the San Diego area, beginning with an introductory session at Mission Point. The highlight of the SEACAMP I week is the all day boat trip with snorkeling, marine life interaction and marine mammal watching. With time permitting the students will conduct an otter trawl and capture plankton for observation. Students have an opportunity to further improve their snorkeling skills on this trip aboard a 65-foot charter boat.
Travel to and from San Diego is to be arranged by the student and his or her parent/guardian and is not covered in the SEACAMP San Diego tuition.  SEACAMP San Diego provides complimentary airport pick-up and drop-off, as long as students arrive and depart inside the designated window of time provided (see Unaccompanied Minor section for exceptions).
Students Traveling by Car:
Student check-in on the first day of camp is between 10:00am and 12:00pm. Student check-out on the last day of camp is between 1:00pm and 3:00pm. All students will need to be checked-out and signed out with SEACAMP Staff. The authorized pick-up person will be required to show a government issued photo ID for student check-out.  Students arriving by car must use the provided map to camp to navigate to the SEACAMP San Diego facility.  The map will be sent with the Student Registration Packet emailed after enrollment. Please do not use our mailing address – it will not get you to our facility.
Students Traveling by Air:
Flights must arrive on the first day of camp between 9:00am and 12:00pm into San Diego International Airport (SAN). SEACAMP staff members will meet students at the baggage claim carousal for their flight.  Staff members will be wearing a SEACAMP San Diego t-shirt and holding a yellow "camper pick-up" sign. Flights should depart San Diego International Airport (SAN) on the last day of camp between 2:00pm and 5:00pm. Students will arrive at the airport 120 – 150 minutes before scheduled flights. SEACAMP Staff members will assist students with the check-in process and see them through security checkpoints. Please note, all students must be traveling as ticketed passengers – we can not have students flying as "standby" passengers.
Unaccompanied Minors:
Most students that fly to camp are minors and are unaccompanied, however, depending on the student's age and the specific airline carrier, the airline may classify them as an Unaccompanied Minor. Each airline sets its own policies and regulations regarding children traveling unaccompanied by adults. Some airlines require that unaccompanied children travel only on nonstop flights. Others may require an additional fee at check-in. Most airlines will want to know the name, address, and phone number for the person responsible for the unaccompanied child at both the departure and arrival airports, in addition to emergency contact information. Airlines' travel and age restrictions vary widely so please consult with your airline of choice to confirm your student's travel status. If your student is classified by your airline as an Unaccompanied Minor, and a SEACAMP San Diego staff member will be required to pick-up or drop-off your student at his or her gate, there is $50 fee for this additional service. We are only able to provide this service for flights that arrive and depart inside the given windows of time.
While your student is here with us at SEACAMP San Diego, we are excited to give him or her an "unplugged" experience. Time away from the computer, TV, and cell phone means more time for learning, interacting, and being out in the field and on the water. This unique unplugged experience allows your student to truly engage with other students and all of the activities he or she will be participating in.
For most families, it is the parents who find it hardest to cut ties with their student during a camp session. Students are engaged with new activities, new friends and busy schedules – no news is good news!  Parents may feel reassured to know that we will, of course, contact them if their child is having insurmountable difficulties or issues while at camp that are brought to the staff's attention.
As you will not be receiving phone calls from your student once they have arrived at camp, try to remember that not hearing from them or SEACAMP is a positive thing – this means your child is okay and having a great time! Your student can, however, receive messages from home while they are at SEACAMP. Email is a great way to let your student know you are thinking of them and keep them up to date on life at home – please refrain from sending photos, as we do our best to keep waste minimal. Send your email to camper@seacamp.com and include your student's name in the subject line. Emails will be printed and delivered to camp once a day. As there is no internet at camp, campers will not be able respond. Please be aware that messages are sometimes scanned and those with inappropriate subject matter will not be delivered and may be forwarded to parent/guardian.
SEACAMP San Diego staff have training and experience in dealing with students experiencing adjustment, social, or homesickness issues. Our staff will counsel students about their feelings and work together to find solutions to fit your child's specific needs. Please remember calling home is sometimes the worst, not the best, remedy for homesick students. Be assured in the event of an emergency or needed communication SEACAMP Staff have cell phones.
The first day of camp can be particularly challenging for students. With this in mind, we have set-up several tasks for students to complete upon arrival. They will need to pick out and set up bunk space, meet the group leader for the session and pick out SEACAMP swag. The students all also make gear bags for their week with us. Additionally, we offer camp tours for students and parents that have driven their student. In our experience students make friends and integrate into camp more quickly and successfully once parents have departed.
Prior to you student' session be sure to discuss the importance of communicating with SEACAMP San Diego staff members. Instructors can only remedy ills we know about or witness; some students are quiet about their needs or problems. We try to hire a diverse staff so that even reserved students will be able to find someone they identify with and trust. Reinforce the importance of telling instructors about any questions or concerns your student may have while at camp.
SEACAMP San Diego Marine Science Instructors possess at least a college degree and are certified Red Cross Lifeguards with First Aid and CPR for the Professional Rescuer including first aid for marine hazards. Additionally, all staff have been finger printed with the Department of Justice & FBI and all have Class-B commercial driver's licenses. SEACAMP San Diego does not retain a nurse on staff, although we do have a paramedic consultant on call. We are within close proximity of emergency care and are in a 9-1-1 service area.
SEACAMP San Diego tuition includes 24-hour supervision of students. The amount of supervisory staff varies depending on the schedule. During snorkeling, there is one lifeguarded staff member with every seven students and staff will have a rescue tube with them. All water activities require students to wear full-length, 7mm wet suits (which makes them buoyant). The only exception is during kayaking and stand up paddle boarding when students will be wearing Coast Guard-approved PFDs (Personal Flotation Device – a 'life jacket'). In the controlled environment of camp, evening activities will have 3 to 5 staff depending on the activity.
During overnight programs we will have one female instructor in the dorm with the girls and the boy's dorm will be staffed with one male instructor. The staff members with the group have access to a cell phone at all times.
All SEACAMP San Diego's programs are centrally located in the community within easy reach of full medical facilities, including emergency care. All facilities are easily accessible by car and ambulance in case of emergency and professional medical care is on call 24 hours a day. Additionally, SEACAMP San Diego Instructors are certified Red Cross Lifeguards with First Aid, CPR for the Professional Rescuer and Oxygen Administration training. SEACAMP San Diego does not retain a nurse on staff, although we do have a paramedic consultant on call.
Our registration forms ask parents/guardians to provide information about medical conditions, allergies, prescription and over the counter medications, etc. Our staff should be aware of medications that students should be taking. Student information is confidential and stays with SEACAMP staff at all times. With over-the-counter medications, completed registration forms provide us with a written list of what the child takes on a regular basis (Advil, Aspirin, Midol, etc.) and students bring their own supply. We have added a list of OTC medications that we stock at camp that may be available to your students if necessary, and parents may give permission to make these medications available if necessary.
In regards to prescription medications, SEACAMP staff is not authorized to hold or administer prescription mediation to students. Students that require prescription medications will be responsible to hold and administer them.
SEACAMP Staff cannot address or help remedy situations they are not made aware of. Students will need to communicate any health problems or concerns. If your child becomes ill or injured while attending SEACAMP San Diego, we will, of course, make sure that parents are kept informed about their child's situation and progress. Whenever possible, parents/guardians will be included in decisions regarding their child's care.
SEACAMP San Diego Instructors remind students to keep their dorm space clean and clear, to shower regularly, wear clothing appropriate for the day's activities and bring water bottles with them for the day. Two of the most important things for a successful camp experience is staying well-hydrated and sunburn free. Staff remind students to apply and reapply sunscreen and drink water throughout the day. Students have access to water and sunscreen all day – even when we are in the field for the day.  It is helpful to discuss parent/guardian expectations regarding sun exposure, appropriate attire, hygiene and hydration, etc. prior to camp attendance. Ultimately, it is the student's responsibly to stay well-hydrated and sunburn free.